If you are like many business owners, you may not know what IT support really means. The short answer is IT covers everything from simple computer questions to complete network and server designs.
When it comes to setting up your own computer network things can get complicated fast. With RCI at the wheel, you don't have to worry. We make sure you have the right switches, routers, and other necessary equipment for impeccable network quality.  We can handle everything from standard switches to customized servers and can install the whole cabling network from "jack to rack".
Our clients use us because we are always available to advise on everyday IT support and troubleshooting issues. We also work with several large clients who have major networking and IT projects that require unique and complex solutions.
We are available to help with a specific project or as a monthly service and offer managed IT options as well.
Structured Cabling Infrastructure

Your Network's Backbone
RCI has been providing quality cabling for almost 40 years.  Quality cabling is all about planning and good workmanship.  From jack to rack, a good wire run is neat, functional, and efficient.

Beyond the cable, RCI can provide all your cable infrastructure needs, from installing a jack, fiber optics, or programming a custom server, no job is too large or too small.  Does your business need a new sound or computer system?  Are you remodeling or building a new structure?  Do you need to add an employee workstation?  Whether you have a new or established business, your network will grow and evolve as your business does.
RCI provides cabling for phones, sound systems, data and internet, CCTV, fiber optics, television, and any other type of low voltage wire you may need.  Not sure what you may need?  Reach out and we will gladly offer our advice on what works best depending on your budget and needs.
Along with the cabling, we also offer installation and configuration of network peripherals including but not limited to, switches, PoE switches, firewalls, routers, low and high capacity network storage, workstation and server configurations. Even if you have complex needs, RCI will work with you side by side to find a solution that will fit your needs.
Wireless Networking
In some situations, cabling may not be a feasible option to stay connected.  For example, many older buildings such as churches, offices that were converted from old homes, etc. were not built to be cabled.  Whether it's solid walls, little to no space in the attic, or other reasons behind your cabling woes, wireless technology could be the IT support solution you need to solve your troubles.
WAPs

Wireless access points, also known as WAPs, are probably a tool you're familiar with inside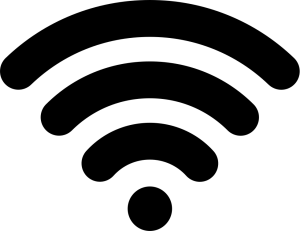 your own home.  While the business technology behind wireless access points may get a little more in-depth, they both work off of the same technology.  Having a wireless network
allows your users to roam around more freely with the use of tablets, laptops, phones, and other portable wireless devices.  Many businesses now also provide free WiFi use to their customers by use of a dedicated segment of your network to keep them from accessing the employee network.
Point to Point
Point to point wireless bridges are an excellent solution for networking two separate physical locations together.  The bridge enables users to share an internet connection and data between locations.  It is much more economical than the traditional route of cabling businesses together, and will also save you money.
High Quality Wireless Business Phones
RCI provides wireless portable telephones with an excellent range.  For small offices, a consumer-grade portable phone may be adequate. However, for warehouses, factories, schools, or other large facilities, you will need someone who specializes in wireless technology.  RCI carries a full range of IP and analog wireless telephones designed specifically for extended range and to be able to take any abuse that a production environment may throw at them. Our wireless telephone solutions integrate seamlessly with our business telephone systems. 
Network Management

IT needs come up all the time, usually unexpectedly.  Sometimes it really is as easy as a simple reboot, however sometimes the issue requires professional intervention.

For your IT support and troubleshooting needs, RCI offers managed IT as a service.  For a nominal monthly fee, we will take care of all your companies network needs.   Is your network having a meltdown? Are you having a meltdown because of your network?  Need advice on software and hardware purchases?  Whether it's a simple question that can be answered over the phone, or a major repair or programming issue that requires onsite attention, we have you covered.   We offer competitive rates and give our clients the piece of mind to know that no matter the problem, they don't have to solve it on their own. Want to know more? Check out our blog about IT Support Contracts. 
RCI Business Technology
5515 Williamson Rd. Roanoke, VA 24012
Monday – Friday:
8 AM – 5 PM
(Technician on call for emergencies)
  Contact us: (540) 563-1708