Waiting On Hold On the Telephone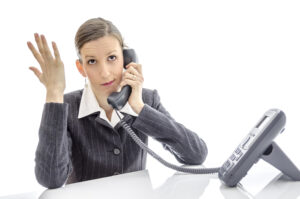 The Blog Will Be With You In a Moment We Care About Your Readership
Don't you love being put on hold? The music? The uncertainty? Maybe even the dead air? 
The modern world is one of instant gratification. If you need an answer, you google it. Want to hear a song? Pull it up on YouTube. Need to share your rage at the latest reboot of an old TV show? That's pretty much what the whole internet is for. 
One of the only places we still need to wait these days is when we have a customer service question. Since waiting has become so rare, impatience while on hold is far more common than it used to be.
My opening questions were obviously sarcastic but there are several ways to eliminate uncertainty and make your call-in customers experience more positive. 
Music On Hold
Ever find yourself singing or humming along with a song you hear on the other end of the phone only to have the person you've been waiting for pick up? It might be embarrassing but it shows that the experience up to that point had you focused on music instead of impatience. Music on Hold is the simplest and most common way to make the on hold experience more pleasant.
There's a great NPR article about On Hold Music that explains the psychology in trying to create it. I've also opined on it here myself so I won't spend a lot of time talking about music on hold. 
What you should know is that you can buy the music canned, hook up an MP3 player, radio or other external source or even use the music that often comes within the telephone system.
Announcements On Hold
When a customer is waiting to speak with you, you have a captive audience. What's better than keeping that customer happy? Keeping that customer happy and informed.
Announcements on hold give you the opportunity to give customers relevant information about your business. If you run a restaurant, tell them your specials. If you're a service company, consider highlighting a service that is underutilized. There is a lot you can do with announcements on hold - so much in fact that there is an industry that has sprung up around it. 
Keeping Customers on Hold Engaged and On the Line
When it comes to on hold tools, music and announcements on hold have been around the longest and are the most passive tools. There's nothing wrong with them but if you want to keep your customers engaged within the phone call while they wait ,there are some more modern tools at your disposal. These include Virtual Answer, Enhanced Call Waiting and Queue Call Back. 
Enhanced Call Waiting
No one likes feeling stuck. People like choices. Waiting on the line for someone to pick up is only slightly behind traffic on the list of ways your customers would least like to spend their time.
One way around that for your customers is to give them choices. Some modern phone systems (such as ESI E-SIP systems) have programming options that allow customers to choose whether to leave a message, stay on the line, or reach an additional employee at your company.
This option is called enhanced call waiting and does a lot more to make your customers feel valued than a canned message telling them they are!
Virtual Answer
We've all had an experience of waiting for an important call for hours and finally getting it while we were on a quick call with someone else. Then we must make the choice whether to try to gracefully leave the existing conversation or miss the opportunity of the call we'd been waiting for. 
Wouldn't it be nice to have a third option?
Virtual Answer allows employees to stay on the line but select a specific prerecorded message to send to the person calling. The message can be something like "I see that you're calling and I'd really like to speak with you. I'm currently on the line with another customer but expect to be done shortly. If you can wait, I'll be right with you." You can also have a separate message in case things don't go as planned saying that the call is taking longer than expected. These messages are recorded by the user and can say anything the user would like. They can also be combined with enhanced call waiting to give the person on the other end options.
Queue Call Back
What's the best way to wait to speak to someone? Doing whatever you want of course.
For many, our favorite option is Queue Call Back. Queue call back allows customers to leave their contact information so that when the employee they are waiting to speak with is available they will get called back automatically without having to wait. If there are multiple callers waiting they will be called back in order. 
This option works particularly well in call centers or businesses with large sales or (by phone) service departments. It takes the active waiting out of the call waiting experience.
Ready to Improve Your Customers On Hold Telephone Experience?
Though our attention spans have shrunk, and we can argue about how much of a problem that is, innovation has sprung from the impatience. Today you have choices and you can pass some of those choices on to your customers.
Which options you choose depends on your business model but you no longer face lack of solutions for the problems of keeping your customers engaged while they are waiting on hold to speak to your company.
Questions or comments? Let us know!