We all need a little help sometimes. It doesn't matter how big you get; you can't go it alone. For most businesses, that means hiring specialists for the areas where they're not the experts, such as landscaping or IT support. And for the big technology companies with National or global footprints, that means hiring IT subcontractors for Southwest Virginia or anywhere else that they don't have a physical presence.
RCI IT Subcontractors' Past
After RCI's earliest days of custom engineering telephone equipment for business enterprises, it got into the telephone system game that would dominate our work and client base for the next 30 years. For three decades, RCI was a Toshiba telephone equipment dealer. We did sales and service for everyone in Southwest Virginia.
The way Toshiba operated before it left the telecom biz was that every dealer had a territory. But occasionally, some would make a deal with a company whose territory went beyond that area. In those situations, that dealer would sell a National Account, allowing the customer to purchase the same equipment for the same price for every one of their locations across the continent.
Naturally, a dealer in Texas or California didn't necessarily want to send their technicians on a service call to Virginia or Illinois to install ten telephones! That's where Toshiba's network of telephone system dealers came in.
Toshiba Dealers and Toshiba Customers
One large customer with a National Service Contract was Lowe's Home Improvement. And every Lowe's in the country had a similar setup. RCI installed all the telephone systems for Lowe's in Roanoke and the surrounding areas.
National contracts sometimes require dealer-to-dealer communication. While the Toshiba equipment specification would be set to National standards, sometimes the IT companies who initially made the deal would do work on the related equipment. As a result, they might use the Toshiba dealer networks as IT subcontractors for the corresponding service.
Becoming IT Subcontractors
It was a natural progression from subcontracting for Toshiba and other Toshiba dealers to becoming IT subcontractors. Toshiba dealers frequently did other work, so if they could help their customers in other ways, having a trusted partner in a distant corner of the country was a major advantage.
And now, just because Toshiba is out of the telecom game doesn't mean those relationships have dried up. Many Toshiba dealers went on to become ESI partners and maintained the relationships they had with their Toshiba brethren. Others went in different directions but still appreciated the reliable partnerships they built.
IT Subcontractors Are Boots on the Ground
In the 80s, the internet, email, and the computer revolution were far in the future. But today, there are thousands of companies that specialize in IT support. There are even companies that do it all by phone…allegedly.
While there are many issues that you can fix over the phone, either by walking someone through some options or by logging in virtually, not every problem is software-related. When you have a hardware failure, there's nothing a phone call can do to fix it.
Many IT companies will have you mail in parts for repair or replacement. But when you don't have time to wait, they may send the parts directly to you or (depending on your agreement) have you buy them.
When remote IT companies need an expert technician to do the in-person work, they hire IT subcontractors in the area where their clients reside. If that client is in Southwest Virginia, the boots on the ground may belong to RCI.
Cabling Subcontractors
While you may not think of running cable as technical (if you think of it at all!), it takes specialized knowledge to do it right, and you don't want someone who doesn't know a service loop from a bootlace! For that reason, one of the most common reasons larger companies call IT subcontractors is to pull cable.
Who Needs Cabling Subcontractors?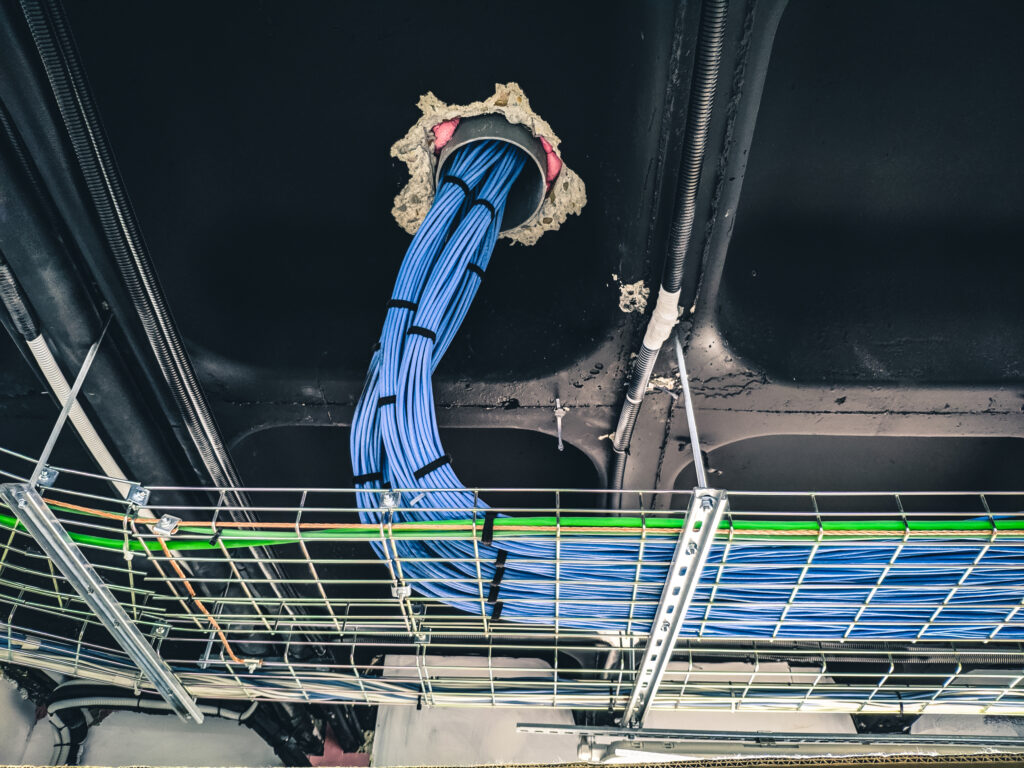 There are lots of companies that need cables run. From end users like local business owners to IT companies in other states to construction workers, cabling is a fact of life for businesses! Your cabling infrastructure is the backbone from which all of your IT and communication needs run. Even if you primarily use a wireless network, 99% of the time, it's wired somewhere.
Construction Companies
With new construction, you start from the ground up. And since every building needs cabling, construction companies frequently need IT subcontractors for cabling. From an IT company's perspective, this is the dream scenario. The easiest time to cable is before the walls have been installed.
Out of State (or Fully Remote) IT Companies
While IT companies can program computers, telephone systems, surveillance systems, and much more before shipping them out to a site, remote cabling is a trick no one has mastered. So, large IT companies rely on IT subcontractors like RCI for their cabling.
Major Chains and Corporations
Finally, major chains, corporations, and other large businesses with their own IT department often handle most of their business technology internally. However, they still may not have the workforce (especially at smaller locations) to run all the cabling when they begin or adjust a branch. Cabling subcontractors are the solution.
Conclusion
Whether you're an out-of-state IT (or other) company or a local business that needs support for its IT work, RCI is happy to serve as your IT subcontractor or help you in any way to make the technical aspects of your business run more smoothly.