Yes We Have No Toshiba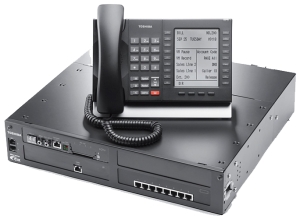 What Do I Do with My Toshiba Telephone System?
What happens when a manufacturer goes out of business?
Not long ago, Toshiba was the best manufacturer of telephones. It was known even by other manufacturers as being the standard in rock solid equipment. In fact it was so head and shoulders above the competition that John Whitcomb, founder of RCI once offered to hook up an RCI technician, along with a competitor to a lie detector and have a client ask which equipment was superior. He got that deal.
For years, Toshiba was the only equipment RCI would sell. It worked well, had good features and lasted longer than any other equipment. We actually have systems that are over 30 years old still in the field. We'd sold Mitel, Comdial and a host of others and decided Toshiba was the only one to sell.
A Great Disturbance
Then all at once it was over.
About two years ago Toshiba left the field of telecommunications. It was a blow. It required fast thinking and luckily we navigated it well.
But today's story is not the story of how we made the change. The story of today is the story of those customers that haven't and how we can help.
If you're a business with a Toshiba telephone system, you may be feeling the hair on the back of your neck stand up as you begin to wonder…am I in trouble?
Have no fear.
Toshiba is no longer in the telephone business. That's true. Shortly after they made the announcement another brand bought out their inventory and continued to sell it for a little while. At this point that's coming to an end. Support will no longer be offered and no parts be made.
But…
What if you just bought equipment a few years ago? Or even a little longer? What if it was an investment you expected to last a decade or two?
Servicing Toshiba Telephone Systems
If you're in RCI's service area, you are fine. Although we are no longer selling new Toshiba telephone systems, we are still servicing existing Toshiba systems. We have a significant inventory of Toshiba parts and we continue to maintain our clients' telephone systems. With RCI's over 45 years in a business and systems that lasts as long as Toshiba's we have a client base with thousands of legacy Toshiba systems still in operation.
We continue to make fixes, upgrades and Toshiba expansions.
That being said, if you are looking for a new system, we can help you there too. We have been converting existing and new customers to our new telephone solutions. We still offer digital, IP and cloud so no matter your preference, we have you covered.
Need some help?
Just give us a call.