Thinking About Telework?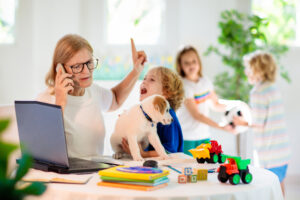 For years now, employers and employees have been touting the benefits of telecommuting. In fact in the past decade telecommuting has gone up over 90 percent! Telework has been an upward trend in the last decade for many reasons – happier employees, saving money for companies, lowering company's carbon footprints and family balance. But today, with Covid 19 scaring the whole planet, responsible people are doing their part to not spread the virus. This includes hand washing, social distancing and… telework.
There are many articles out there espousing the benefits of telework. And there are a lot of experts who are already speaking about the coronovirus. (If you have questions, check out the CDC website and don't assume if you read it somewhere else that it's true. There's a lot of misinformation out there.) Where RCI and this blog post can help is making telework possible if you have made the decision to do so. 
Remote Phones and Cell Phone Integration
When employees work at disparate locations, communication is key. And as far as we've come in the modern age, you still can't beat the telephone for a conversation. 
Though you can have each employee operate off of their own telephones and lines, there are many issues that can come from this. Number one is cost to employees. Number two is not having a single point of contact for clients or potential customers to call. And three is the inability to easily transfer calls interoffice or use other important business telephone features. 
Modern telephone systems can solve all of these problems. 
Employees can use SIP trunks at home and just plug in a phone from the office. It will then connect back to your office telephone system as if you were in the same building. 
If you don't have time to plan for that or want to keep all of your equipment in the office, a smart phone app can connect employee cell phones to the business telephone system. Features can still be available on the cell phone including call recording, conferencing and more. When users dial out from the cell phone app, it will still appear to be coming from the business to customers. So employees don't need to give out their personal numbers.
Video Conferencing
When realtime collaboration is necessary and being in one place is impossible, videoconferencing can be the next thing. 
There are several solutions for videoconferencing out there from simple computer interfaces to more in depth solutions with point to point video with multiple cameras and document sharing. 
Whatever works best for you, RCI can help you to get your best solution set up. 
Unified Communication
Unified communication allows users to access their email and fax from an email box. This is an excellent option for telecommuting and other on the go employees. 
Video Streaming
For some organizations, meetings are more than a chance to a collaborate. For churches or anywhere with a large audience and a focal point, more sophistacted audio visual solutions can be prepared so that people don't have to miss out on their weekly service or other gathering. Video and audio can then be streamed to a youtube channel or other source that can be open to the general public or just those with the proper credentials.
So, what are you thinking about when it comes to telework? Is there anything you wish I had addressed? Give us a call and we will help you to stay in business even when your business can't be open to the public. 
UPDATE: A lot has happened since this blog was initially written at the start of 2020. Check out our other blogs about telecommuting and other Covid related tech informations.