Buy Local (is Good for Service Too!)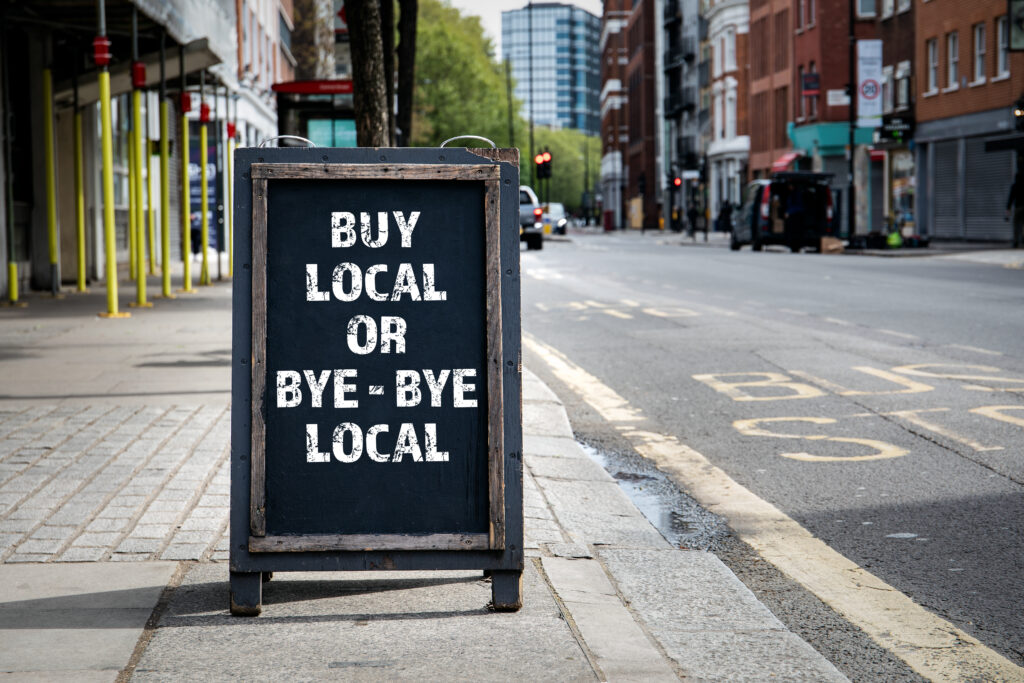 Most of us like the concept. Buy American has been popular for years but in the last decade "Buy local" gained a lot of traction. Towns exhibit this trend with Buy Local bumper stickers with the name of the town, farmers' markets, and craft fairs. According to shiftworkspaces.com Local shops produce a net annual return of $326 per 1,000 square foot compared to a net annual deficit of $468 per 1,000 square foot for big box stores "The money we spend locally will generate three and a half times more wealth for the local economy compared to chain-owned businesses." That's a shocking difference.
Often there are times of the year where particular local areas are celebrated. In Roanoke, we have Restaurant Week and  Williamson Road Restaurant Week. At Christmas, there are craft fairs in the market building.
And nationally, 2 days after Thanksgiving (and not coincidentally the day after our unofficial national capitalism on steroids holiday, Black Friday) we celebrate Small Business Saturday.
It's a lovely concept and certainly, one RCI supports. But there is one thing all of these events lack. They all focus on retail shops and restaurants. All of these establishments are worthy of attention and we like to support them ourselves. But what about the service-related businesses?
Buy Local Business Technology Service
Unfortunately, most national chains, though supporters of local economies through taxes and vicarious spending through their employees have national service contracts with other national or multinational companies.
So you don't see a lot of buying from local vendors from your giant corporations.
So local business service companies like RCI who cater to businesses with technology or other services depend on local businesses for the vast majority of our business.
Now that is not to say that smaller businesses don't also benefit from National Service contracts. For example, Lowe's had a National Service Contract with Toshiba so Toshiba dealers like RCI were in all the local Lowe's.  But that is a small percentage of our clients.
What Happen When You Don't Buy Local?
Unfortunately, just like your local grocery stores have to compete with Walmart, business technology companies have to compete with National competitors.
With VOIP that has become more common.
Many companies will just ship phones out to businesses and have them plug them into the wall. Their prices tend to be great but their service does not.
Unfortunately, many small businesses feel they can't look past the price or don't know the value of good service until they realize they don't have it.
Telephones are not something you think about much until they stop working. The same can be said of computers, speakers, or anything else that RCI sells and services. When your technology provider is some national chain, it's often hard to get a hold of a person to fix your problem if it doesn't neatly fit into a box. If you do get a hold of a person, it might not be the right person. And who knows how many transfers will occur before you get to the person who actually understands what your actual problem is.
We've all had bad telephone customer service experiences with something as simple as trying to return a product. How much more difficult does it become when the problem you're trying to solve is a complex technological issue that you yourself don't fully understand? It's beneficial to a local small business to be able to have another local small business service your technology on site.
Obviously, this is from a business technology slant because RCI is a business technology company but the same can be true of other services.
There are dozens of marketing companies online but they don't know Roanoke marketing the way a company like Power-Up Online Promotions does. You can do your banking at any of the national chains but they weren't built into the community in the same way as Bank of Botetourt. There are national landscaping service companies, but do they know the Roanoke plants and soil like EcoScape? The answer in all cases is, of course not!
Although it's not necessarily malevolent, the more distance companies have from their customers, the worse they treat those customers. we tend to treat people better when we have a sense of them. It's easier to ignore an email than a phone call. It's easier to ignore a person on the phone than someone who is face to face with you. And when you know your customers as people and care about their success as businesses and human beings, you are just more likely to go the extra mile.
Local Service Companies Care About Your Business
So when you think about buying local, don't just think about baked goods, produce, and crafts. Think about business services too. There are a lot of Roanoke businesses that would love to have your business.
And I bet you anything that once you have received local service, you will never want to go back to a depersonalized national model.